1
« on: February 23, 2018, 09:15:55 AM »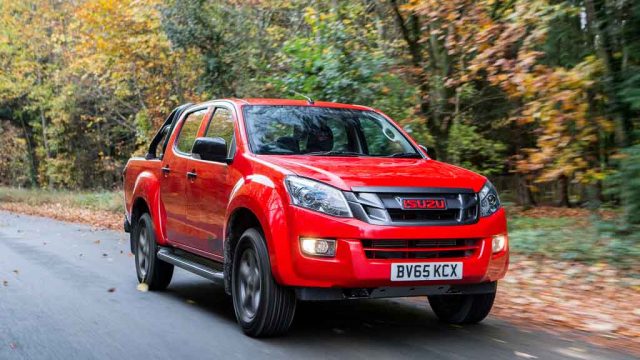 Isuzu
has launched the first generation D-Max pickup truck in 2002 and it is considered one of the best off road Vehicle
with the great suspension. The first generation of pick up truck was coming in the market till 2012 and now the company has launched the second generation. This truck D-Max shares the ladder chassis platform, mechanical component and body construction with 2013 General Motors Chevrolet Colorado. The Isuzu D-Max is introduced in the market with various engine options and some of them are mentioned below:
Engines:
• 1.9 L RZ4E-TC I4(diesel) The engine produces 163bhp and 360Nm of torque
• 2.5 L 4JK1-TC Hi Power (diesel) 136hp@3600rpm, 320Nm@1800-2800rpm
• 2.5 L Twin Turbo I4 (diesel)
• 2.5 L 4JK1-TC / TCX (diesel)
• 3.0 L 4JJ1-TCX I4 (diesel) The engine produces 430Nm torque
• 2.4 L petrol engine
Isuzu D-Max has the Flex-Ride suspension to give you comfortable ride and the rear side of the vehicle is congested as it has 35 inches of legroom present in the back seat for the passengers. All models of D-Max are available in market with ABS brakes, traction control and electronic stability control.
Gandhara had signed the agreement with Isuzu Motors last year to get the technical information and the assistance to assemble, manufacture and sell D-Max in Pakistan. It is expected that Gandhara will launch D-Max in mid 2018. The D-Max has been provided in the market in different engine options and Gandhara will introduce the pickup truck in 2.4 L petrol engine and 2.5 L 4JH1-TC Hi Power diesel engine. IMCToyota
has introduced Revo with new 1GD 2.8 diesel engine and it will introduce diesel Fortuner and it might be possible that vehicle comes with 2.5 L 4JK1-TC Hi Power diesel engine.
http://www.gari.pk/news/overview-of-isuzu-d-max-433/